Registering devices for electrical parameters type REM-211 and REM-221
The registering devices are manufactured as portable; they enable measurement and registration of basic electric parameters in three-phase low voltage systems.
REM-211 it is the registering device for rms values of phase voltages and frequency, while REM-221 registers additionally rms values of phase currents, active powers, reactive powers and active energies independently for each of the phases.
Registering devices monitor, store in memory and analyze events occurring in the network in order to detect disturbances, diagnose failure states, determine the reasons for failure states etc. besides they can average measurement results, which is necessary for the supply quality assessment done in the conformity with the EN 50160 standard.
Software solutions enable the automatic generation of the relevant supply quality assessment report.
Construction of both devices enables their installation directly on the pillar, in the place where the measurements are carried out.
Full technical data can be found in information leaflet.
These devices are particularly useful for:
Detecting illegal electrical energy inputs.
Checking and monitoring quality of supplied electrical energy.
Analyzing demand for electrical energy.
Preventing overheating of insulation of cables and conductors.
Detecting breaks and overvoltages in the network.
Measuring starting currents for various devices and apparatuses.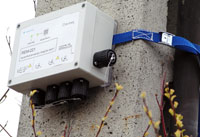 Special IP-65 housing enables installation of these devices directly on the pillar in the place where measurements are carried out.